"It's without walls and this I love very much," enthuses Georg Platzer, Market Development Manager and incoming store manager of the Philippines's very first IKEA, about the open office layout of the brand's Manila corporate office. "It's furnished in a way that it is light and Scandinavian. It's not heavy, it's an easy working atmosphere that gives us a lot of room for creativity and togetherness and teamwork.
It's also bathed in light—both natural and the kind sourced from some of the store's best-selling chandelier lamps—and peppered with ergonomic touches.
This is the first time that IKEA is opening the doors of its Manila HQ to media — only a day after they engaged the press with stories of their growth plans and folding chairs (the same ones each guest sat on, to take home in supersized Fraktas) at their announcement event in Mall of Asia. And while their first Philippine brick and mortar, already projected to be the world's largest IKEA with a floor area of 65,000 square meters, is yet to open in late 2020, the founding local team is only too eager to show us around their 8 Rockwell office and get us up to speed with the IKEA experience.
The PS 2014 pendant lamp, a chandelier every Star Wars fan refers to as the Death Star, welcomes guests at the foyer and is also installed in the main conference room. In one of the seating areas, conducive to creative conversations and mid-work relaxation, the quirky Maskros lamp hangs overhead. Both chandeliers double as a light source and an IG trap for the office's stream of first-time visitors.
The theme of light and brightness repeats itself at the open office setup where desks and shelves are done in pristine white. The desks, in particular, are a delight to do planning and pencil-pushing on. With the press of a button, you can adjust its height and make it a standing desk when you've been sitting too long.
IKEA Managing Director for Southeast Asia Christian Rojkjaer sees this both as an ergonomic benefit and a staffing solution. "When new employees [join the team] and you shift [seating arrangements] around, the tables can adjust to whoever is [going to be assigned there.]." Christian adds that aside from selling these items in the store, seating and shelving solutions are part of a portfolio of non-retail services they will offer very soon. "We have a not-so-well-known but really good value for money business-to-business offer," he says.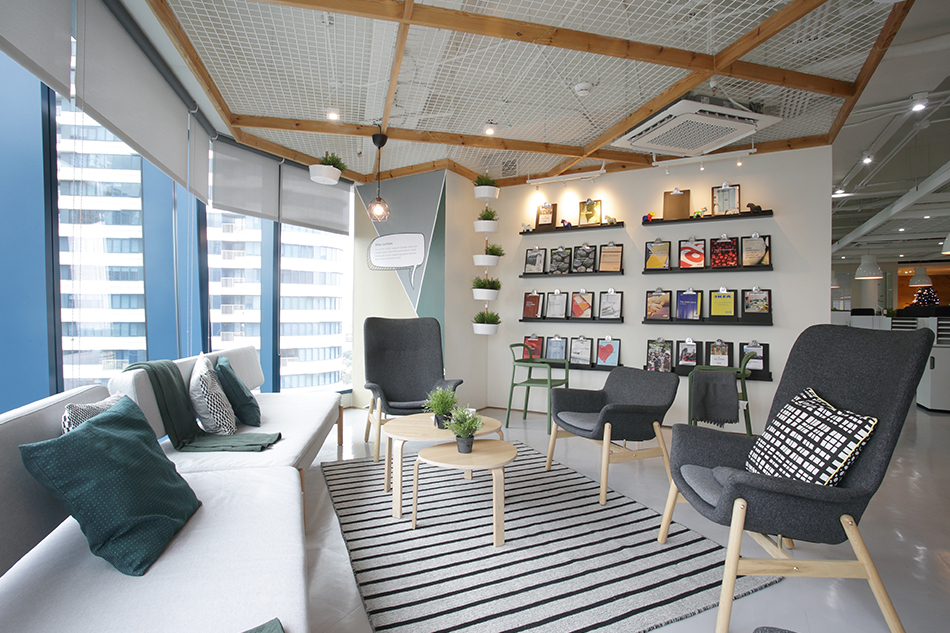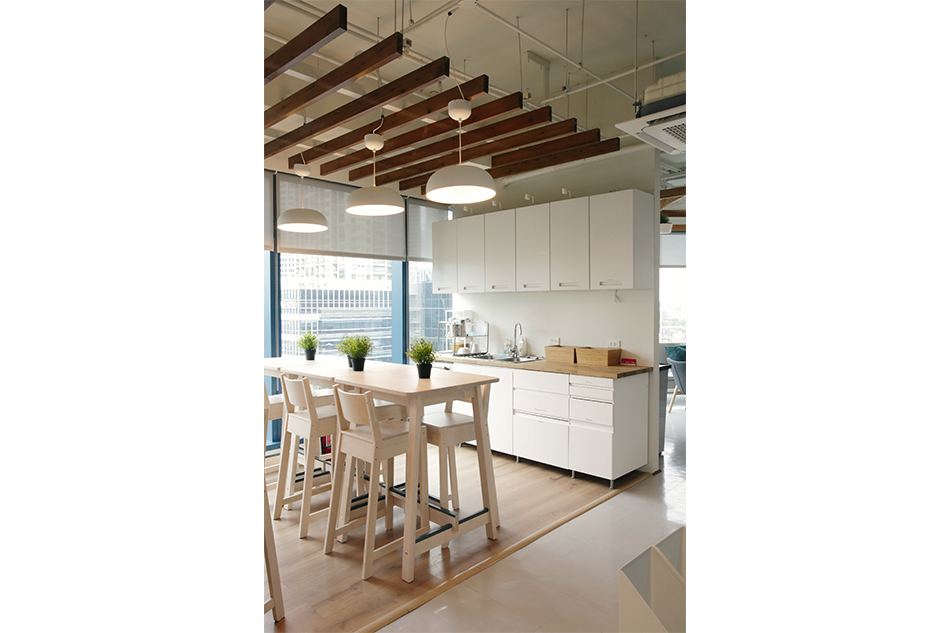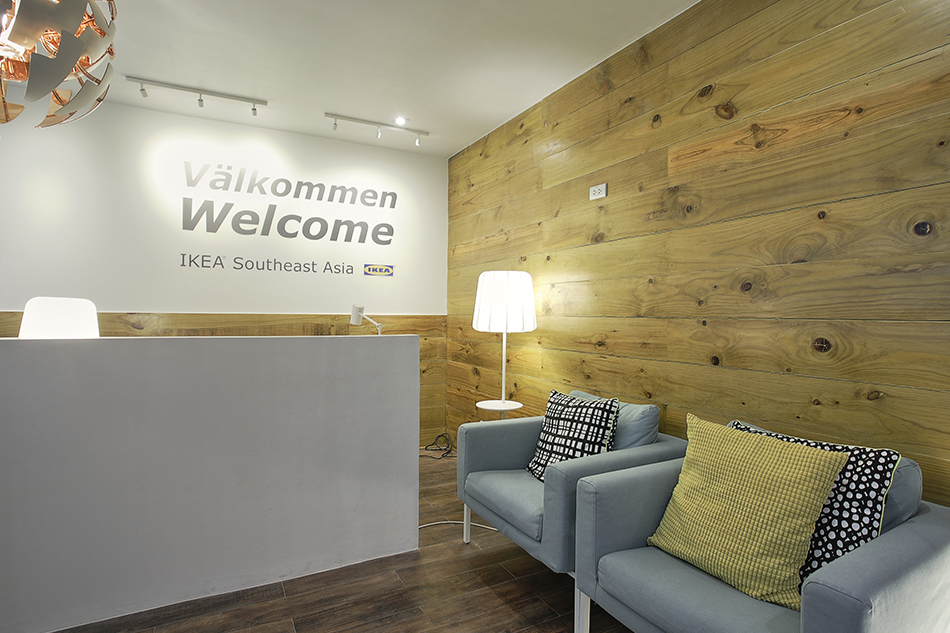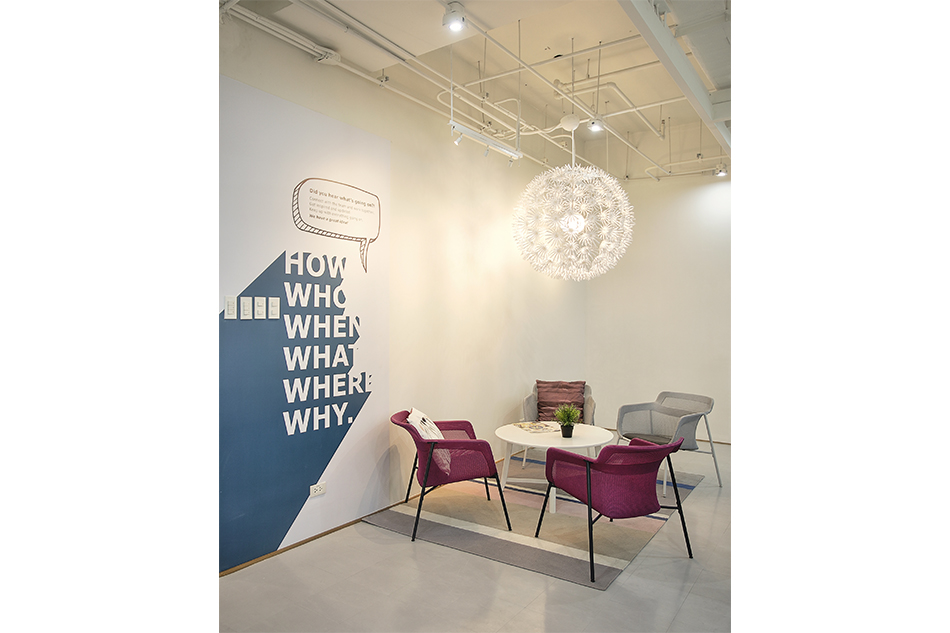 The corner lounge at the intersection of the pantry and the conference room.
Bathed in Rockwell light: the office pantry.
Another perspective of the central work area.
Wall graphics make for a young, fresh atmosphere.
At the pantry overlooking the Power Plant mall and Rockwell's surrounding neighborhoods, tables and stools encourage dining and discussions. The team specifically raves about Fika—that's the Swedish term for coffee break—everyday at 10:30 where everyone is encouraged to plug out of work, cozy up, and even share plans and pitch ideas in a casual, free flowing format. That Fika time is non-negotiable and conveniently scheduled before lunch break is, we thought, such an enviable perk.
Speaking of free flowing, IKEA employees are treated to generous helpings of Daim candy bars, sweet but sugar-free oat biscuits, and alphabet cookies—soon to be available at IKEA's Swedish Food Market section—to go with their brewed coffee everyday. We could only bet your vendo caffeine fix won't measure up.
A look at IKEA PH Office 2020