PayPal was purchased by eBay in 2002 for $1.5 Billion. For years, it had been the primary payments processing partner of eBay where 70% of all transactions were completed. 1 out of 4 auction listings was transacted through PayPal. In recent years, it had been faced with so many levels of competition. Now, eBay seemed to have abandoned Paypal. Nonetheless, the company said that PayPal will remain an important partner to eBay.
Recently, eBay had announced to intermediate payments within their marketing platform. In line with this announcement, eBay has signed an agreement with Adyen to become eBay's primary payments processing partner. The news had also been sent out to all of the sellers on eBay.
While these changes had been announced recently, the full transition will not be effective immediately. The transition is expected to complete by 2021 but the intermediation will start this year, 2018.
"EBay said it will start the transition in payments processing later this year, with the majority of its marketplace customers using the new partner by 2021."
What is Adyen?

Adyen is a leading global payments processor that links directly to card systems and transaction methods around the globe, allowing businesses to receive payments and increase income online and in-store within a single process. It was founded in 2006 by a group of payment technology experts. If you were wondering about the name, it means "start over again" in Surinamese.
It won't be a big surprise if you had never heard of them, although they are already working with the biggest brands like Netflix, Uber, Spotify, Booking.com, Groupon, and Etsy, and integrated in massive industries such as Retail, Digital, Gaming, Airlines, Hospitality, and Ticketing, it seems that they keep their services under a low profile.
The changes in eBay's payment system seek to simplify the end to end experience for both buyers and sellers. eBay sellers will benefit greatly from this new payment system with great expectations to look forward to.
"We believe that we can offer a more seamless experience while giving buyers and sellers more choice for payment and payout options," said eBay Chief Executive Devin Wenig.
What can you expect from the new payment system:
Adyen calls their checkout process 'Frictionless payment flows', and that is a great way of putting it. You can be sure that the payments are going to be taken directly on eBay's site without any redirection to another site or require the need to register to another service. The methods that Adyen supports are countless, and worldwide.
Simplified pricing structure
Predictable access to funds
Reduced cost of payments processing
Centralized system to track and manage the business
Synchronized payments information
All that and more useful information can be found on Adyen's homepage.
eBay will still carry on and allow consumers to use PayPal as an option for buyers upon check out until July 2023.
Just in case you have missed that message, here it is: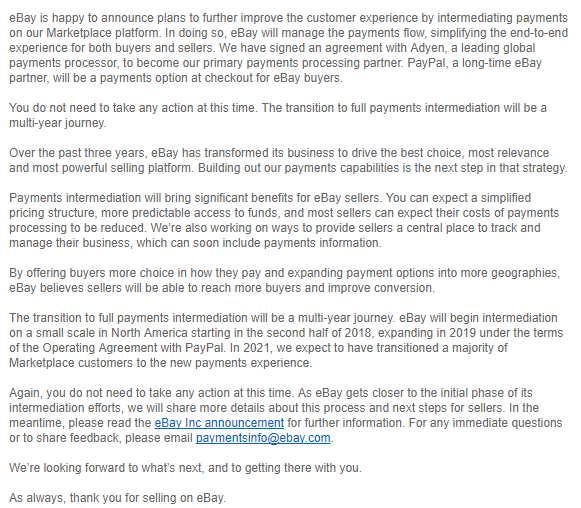 What do you think about this bold move from eBay? Comment below
Goodbye PayPal, Hello Adyen – More about eBay's latest announcement