Global agency We Are Social releases reports every year detailing social, digital, mobile, and internet according to the world's demographics. They have released their "Digital in 2018" series of slideshows, one of them being "Digital in 2018 in Southeast Asia".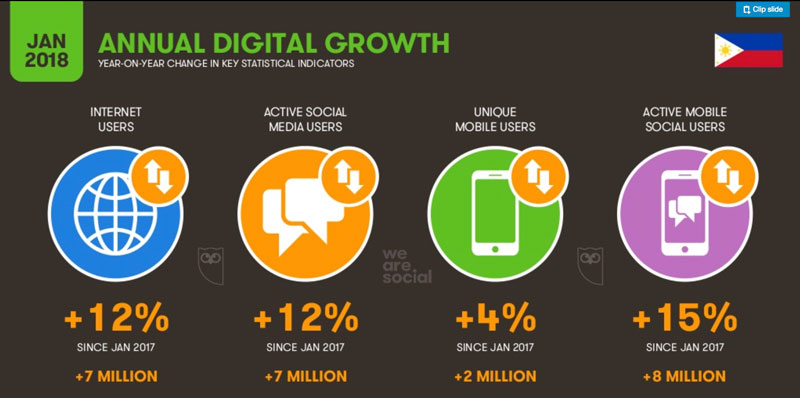 *for Philippine stats skip to slide 106
see also: 2017 Year end review of Philippines eCommerce
Much of this year's growth in internet users has been driven by more affordable smartphones and mobile data plans. More than 200 million people got their first mobile device in 2017, and two-thirds of the world's 7.6 billion inhabitants now have a mobile phone. More than half of the handsets in use today are 'smart' devices too, so it's increasingly easy for people to enjoy a rich internet experience wherever they are. Social media use continues to grow rapidly too, and the number of people using the top platform in each country has increased by almost 1 million new users every day during the past 12 months. More than 3 billion people around the world now use social media each month, with 9 in 10 of those users accessing their chosen platforms via mobile devices.
Digital in 2018 in Southeast Asia