With a dynamic economy and a large population proficient with digital technologies, the Philippines is a fast-growing market for e-commerce in Southeast Asia. Several websites and digital applications are already fighting for market share, with global, regional and national players trying to come up to the leader.
The growing connectivity of the Philippines, rapidly overcoming the country's infrastructure difficulties, enable more and more of its large population of more than 100 million to access the internet. Primarily accessing it through mobile devices, but also through computers, connected Filipinos consequently grow the country's e-commerce market.
Top 10 e-commerce websites in  the Philippines
In the Philippines, many actors are already in place but they all trail an overwhelming leader. Though the market is growing in both size, as more and more Filipinos buy online, and in scope, as the range of products bought also diversify, existing players and newcomers still have a hard time facing Lazada, the hegemonic leader of Philippine e-commerce and leader of e-commerce in Southeast Asia.
To give you more perspective of Lazada's lead and its top followers in the Philippine e-commerce, here are the current top 10 leaders of e-commerce websites in 2017 and their estimated monthly traffic.
Lazada Philippines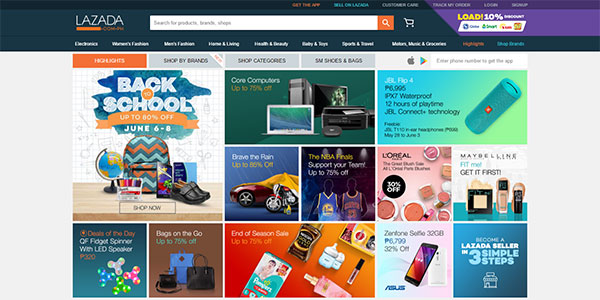 SimilarWeb Monthly Traffic Estimate (May 2017): 46,600,000
The leader of e-commerce in the Philippines by far, also present in Indonesia, Malaysia, Singapore, Thailand and Vietnam, Lazada is a an online department store and marketplace for retailers to sell their own products. Founded in 2011 by Rocket Internet, the Chinese e-commerce giant Alibaba acquired a controlling stake in Lazada and its operations in Southeast Asia in 2016.
See also: LazadaPH CEO Plans to Make the PH a Top Country for E-Commerce
Metrodeal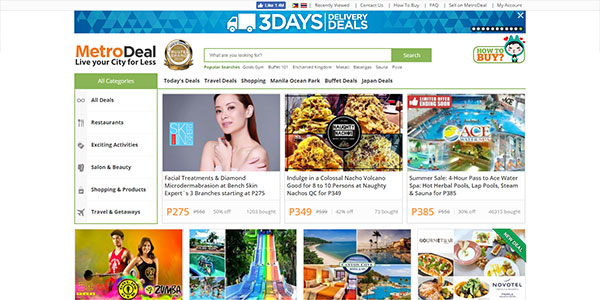 SimilarWeb Monthly Traffic Estimate (May 2017): 3,677,000
Leading the pack of followers, Metrodeal is an e-commerce website specialized in coupons and deals gathering promotions for restaurants, leisure, shopping and travel. From its debut in the Philippines, Metrodeal has expanded to Indonesia and it is now also developing its operations inThailand.
Shopee Philippines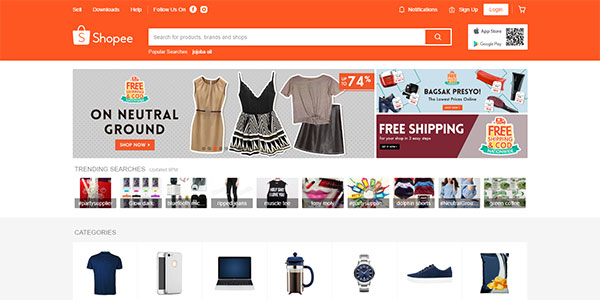 SimilarWeb Monthly Traffic Estimate (May 2017): 2,650,000
An important player in the "mobile-first" Philippines, Shopee is a primarily mobile, diversified online shop, that also provides a regular web experience. A leading platform in Southeast Asia, Shopee is also present in Singapore, Malaysia, Thailand, Indonesia, Vietnam, as well as in Taiwan.
Zalora Philippines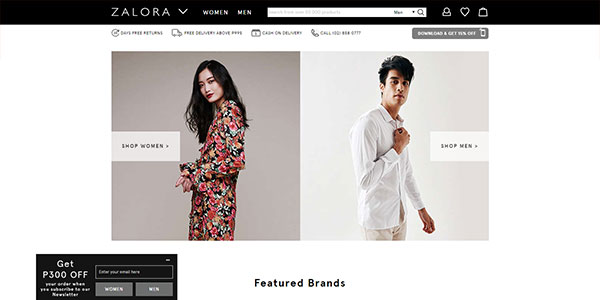 SimilarWeb Monthly Traffic Estimate (May 2017): 2,200,000
Zalora is the largest e-commerce site in Southeast Asia specialized in fashion. Enabling fashion brands to sell their products to the site's visitors, Zalora was founded in 2012 by Rocket Internet. Zalora is present in Singapore, Indonesia, Malaysia and Brunei, the Philippines, Thailand, Vietnam, Hong Kong and has recently launched in Taiwan.
eBay Philippines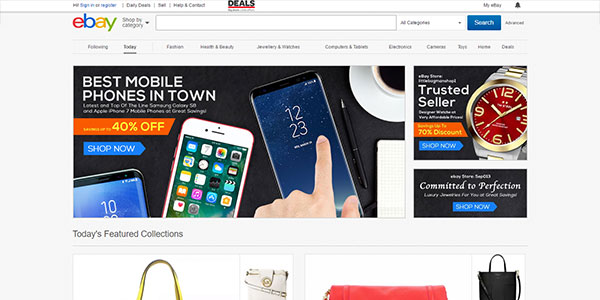 SimilarWeb Monthly Traffic Estimate (May 2017): 1,750,000
The Philippine local site from the American e-commerce giant, eBay was originally created for consumer-to-consumer sales. Having expanded since into business-to-consumer products and special deals, eBay Philippines caters to all general products categories.
Globe Online Shop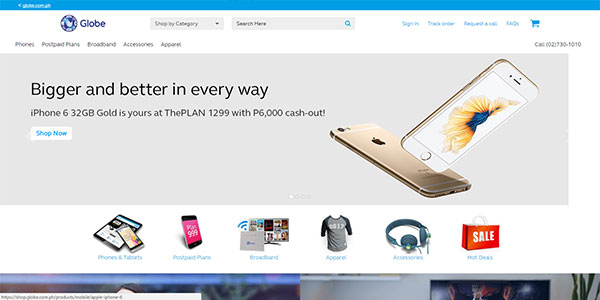 SimilarWeb Monthly Traffic Estimate (May 2017): 970,000
The Globe Online Shop provides an online platform for mobile devices, gadgets,  apparel, and postpaid offers, with the latest products from the world's leading brands in electronic hardware. The Globe Online Shop is the e-commerce division of the Globe Corporation, one of the largest companies in the Philippines.
Goods.PH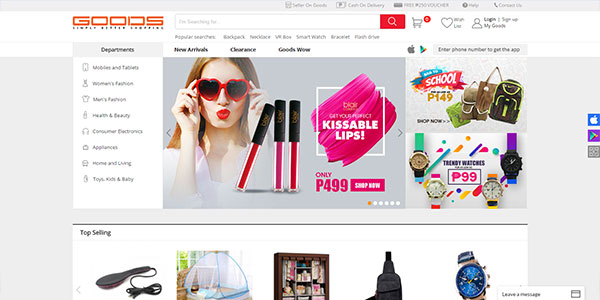 SimilarWeb Monthly Traffic Estimate (May 2017): 384,000
Another general online department store, Goods.PH primarily focuses on affordable products in the categories of mobile and electronics, fashion, health and beauty, appliances, home and toys. It enables sellers to display their products on the platform to sell to the visitors of Goods.PH.
VillMan Computers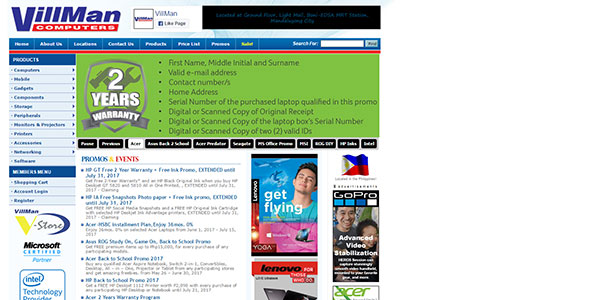 SimilarWeb Monthly Traffic Estimate (May 2017): 370,000
A brick-and-mortar company providing computers, hardware, mobile devices and gadgets, VillMan Computers also enables online shopping through its website. With a large array of products and a wide network of branches, VillMan allows customers to buy online throughout the country.
CDR King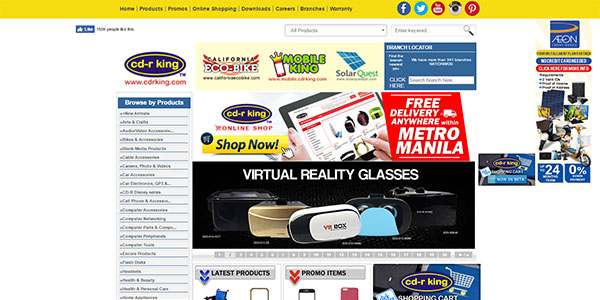 SimilarWeb Monthly Traffic Estimate (May 2017): 330,000
CDR King is a Filipino retail chain that primarily sells discounted computer parts and gadgets, electronic appliances, and accessories. Through its website, it also allows its customers to buy electronics and hardware products online.
Galleon.ph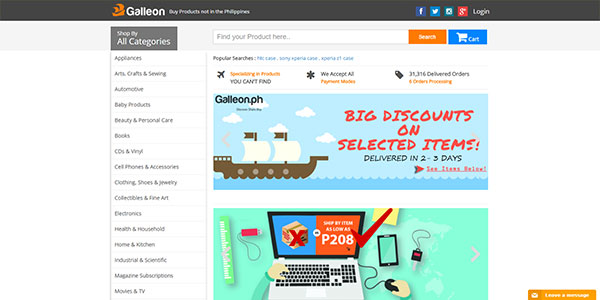 SimilarWeb Monthly Traffic Estimate (May 2017): 260,000
Galleon.ph is an online shopping website specialized in products not available in the Philippines. With a diversified array of categories, Galleon.ph provides access to products imported from the US and China to Filipinos through a convenient online experience, ensuring the shipping directly to their door.
Top e-commerce mobile applications in the Philippines
Aside from their websites, most of the top 10 e-commerce websites detailed here also have mobile applications available on the various platforms to provide an e-commerce experience through mobile devices.
However, in addition to some players like Shopee who dominate mobile commerce, the digital application Carousell has a strong mobile presence. Other strong mobile commerce players in the Philippines include Amazon, Etsy, Zaful and Taobao.
The Philippines' top e-commerce websites compared by estimated traffic
The estimated monthly traffic from the top 10 e-commerce websites previously listed highlights the overwhelming domination of Lazada over the Philippine market with more than 46 million visitors per month.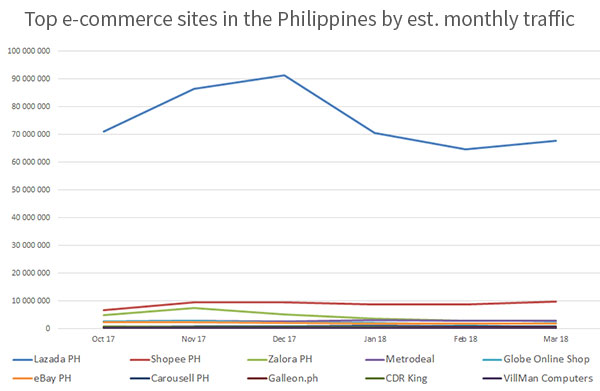 To see more clearly the situation of the followers of Lazada in the Philippine e-commerce landscape, here is another graphic showing the state and evolution of the following nine competitors, when Lazada is taken out of the picture.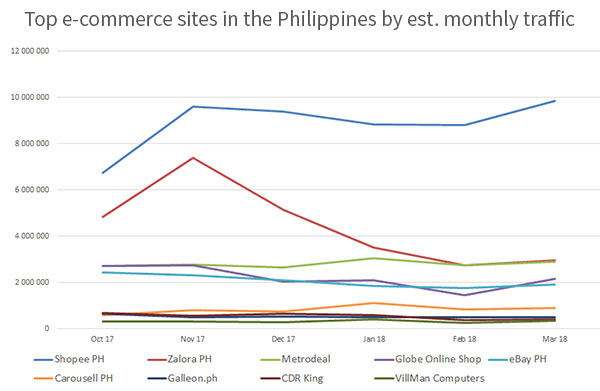 Though generalist or category-specific websites make up for the largest part of Philippine e-commerce, some specific brands are also very active to sell their products online. In the Philippines, Cebu Pacific and MyPhone notably lead the national online market of airlines and mobile phones makers respectively.
The leader of peer-to-peer classifieds in the Philippines, with more than 10 million visitors per month, OLX Philippines can also be highlighted for its size and potential. Several other classifieds players, specialized in cars and/or houses and apartments, are also noteworthy: Autodeal, Mitula, Carmudi and Lamudi.
Originally by:https://aseanup.com/
Top e-commerce sites in the Philippines 2017